Udemy has it! The greatest Graphic design Bootcamp ever, where you learn InDesign, Photoshop and Illustrator in a very easy and pleasant way. The course is a bestseller and is rated to 4.5 stars out of 5! With 15.5 hours on-demand video and full lifetime access. Created by Derrick Mitchell. So, look no further, this is where you find all your graphic design tutorials for beginners!
What to expect
I would say that this course is for anyone interested in graphic design. If you want to start you own business or just want to be able to make a few invitations to a party, then this course is perfect to get you started. Derrick Mitchell is a great teacher with clear voice that is easy to understand. He speaks from the heart and offers you really good examples and projects for the beginner to gradually get better and advance.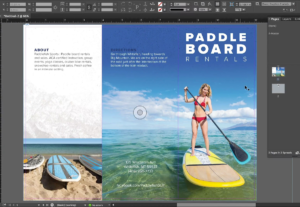 For the most part, all the principles you will learn in this course transcend the tools you actually use. All project files are included as a free download at the beginning of each section, and you are welcome to use the files however you want, or simply to follow along with the projects as you move through the lessons.
If you want you can checkout the Facebook group. Which is an awesome resource for you to take advantage of while you go through the course. The group is an excellent place to post projects, get insightful critiques, and network with other like-minded students and working professionals all over the world.
What will you learn
How to use Photoshop, InDesign, and Illustrator; the industry-standard applications for graphic design.
Develop the skills and confidence to create common graphic design projects.
Build a skill set that can set you up to be employable in the creative industry as a graphic designer.
Begin to understand the basics of logo design, including typography and color usage.
Learn how to make and refine selections using Photoshop.
Learn how to make composite images using Photoshop.
Work with typography, shapes, colors, and more in Illustrator.
Learn how to efficiently package and export files.
Gain a clear understanding of how to work with BOTH print and web projects.
To make pixel-perfect projects for print and web.
Learn how to layout graphics and text while designing an eBook with InDesign.
Discover how to export your finished portfolio projects directly from the Adobe CC into Behance.
Learn how to mask shapes and work with Font Awesome icons.
Learn how to set up a logo mood board and how to present your work to clients.
Work with the type tools in Adobe Illustrator.
You will also learn how to make some of the most popular projects in the industry: Custom logos, Business cards, Brochures, Flyers, Web graphics and more.
Conclusion
I can´t believe this course has full lifetime access! It gives me a chance to go back and look at the different videos again and again when I need to brush up on what I have learned. This course is for anyone that wants to learn how to take their creative ideas and put them into a print or digital format. It is definitely the perfect graphic design tutorial for beginners.